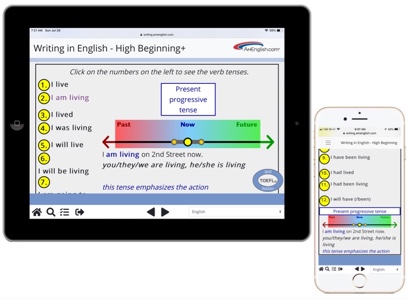 July 29, 2019
AmEnglish.com® has just released a new HTML5 version of Writing in English - High Beginning+ and Writing in English - Intermediate+.
The new, HTML5 versions:
Feature faster load times & an improved user interface
Include user-friendly screens for mobile
Run on tablets, smartphones, PC's & laptops without an app
The
Writing in English
programs* are designed for nonnative writers of English and focus on:
Identifying and avoiding common grammar & syntax mistakes
Writing more clearly and concisely in English
*Both programs have been reviewed and approved by ETS®, maker of the TOEFL®, GRE® and HiSET® tests.
Each level of
Writing in English
features:
Clear explanations of grammar rules
Over 200 interactive lessons
Multiple interactive charts
Text translations for multiple languages
Measure learning with:
Scored practices with immediate feedback
Scored chapter reviews with immediate feedback
Pre and Post Assessments with instant scoring
Both levels of
Writing in English
meet multiple Common Core, Florida, and Texas standards and are available for schools as:
A classroom license with LMS tracking
A school license with LMS tracking
A computer lab license
Comments from teachers/users:
"I like the on-line practices. You learn it and practice it immediately. This will help you remember what you learned."
Student
"Our students use this software, and they love it."
DeAnza Community College, Silicon Valley, CA
Individuals can purchase directly from the
website
.
Contact us for pricing & special options for Schools & Colleges:
David Hans, Co-Founder
Email
Phone: (925) 485-3080
Established in 1999,
AmEnglish.com®
provides web-based programs to improve reading, vocabulary & communication skills. Our newest series,
Read Aloud eBooks with adaptive assessment
, received the
Smart Book Award
& is designed for students at reading grade levels 1.6 - 6.9. Our middle school series,
Vocabulary Builder
, focuses on vocabulary & combines poetry and natural science facts. Both series satisfy multiple Common Core Standards.
The
Pronunciation in English, Writing in English,
&
Idioms in English
programs are designed for nonnative speakers of English & have been reviewed & approved by ETS®, maker of the TOEFL® & GRE® tests. Corporate clients include companies like Kaiser Permanente Medical Group & IBM. Education customers include schools like Iowa State University, De Anza College, and the Los Angeles Unified School District.