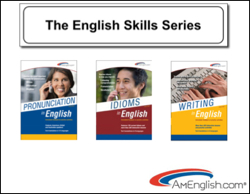 August 2, 2010
AmEnglish.com® announces two levels for their online, interactive programs for English-language learners
Pleasanton, Ca. - AmEnglish.com® announces two levels for their online, interactive programs for English-language learners:
Pronunciation in English - High Beginning+
Pronunciation in English - Intermediate+
Writing in English - High Beginning+
Writing in English - Intermediate+
These programs are part of the English Skills Series from ETS®, maker of the TOEFL® and TOEIC® tests.
"We are pleased to make these products available in two levels in response to feedback from customers," said founder, Kathy Hans. "We have doubled the number of practices for each step to help students internalize these skills."
Pronunciation in English helps you use the important elements of stress, intonation, and rhythm like a native speaker. It will improve your listening comprehension and pronunciation.
Writing in English helps you write clear, concise, and correct English. It will help you reduce errors in academic writing at school, in email writing at work, and in essays for tests like the TOEFL® & TOEIC®.
These programs are available online:
Products
Educational Testing Service® (ETS®)
is the world's largest private educational testing and measurement organization and a leader in education research. ETS® is dedicated to serving the needs of individuals, educational institutions, and government bodies in nearly 200 countries. The organization develops and administers more than 12 million tests worldwide. For more information about ETS®, visit its Web site at
ETS®
.
AmEnglish.com®
provides products and services to improve communication skills for nonnative speakers of English at the intermediate and advanced levels. Their pronunciation, idioms, and writing programs are currently being used in language labs at schools and universities like Reedley College in California, Laramie County Community College District in Wyoming, and the University of South Carolina. Companies like Microsoft and IBM use these programs to improve productivity in the workplace.