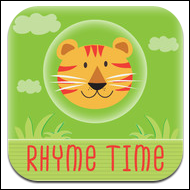 April 20, 2012
Rhyme Time- Volume 1
AmEnglish.com® and LittleELL.com announce the release of Rhyme Time- Volume 1, a new app for children on the iTunes store. This app helps children discover sounds and rhythm in English.

"We are excited about our collaboration with LittleELL.com on this new app for children. Rhyme Time- Volume 1 is appropriate for preschoolers as a 'read aloud,' and children 6-8 years old will enjoy the matching rhyme game that builds reading skills in English," said Kathy Hans, founder of AmEnglish.com®.


LittleELL.com creates audio books, read and listen books, online programs, and apps for young English language learners. Their mission is to inspire a lifelong love of language and learning.


AmEnglish.com® provides products and services to improve communication skills for nonnative speakers of English at the high beginning through advanced levels. Hundreds of universities and colleges, many multinational corporations and thousands of individuals worldwide have successfully used the AmEnglish.com suite of English-language products.