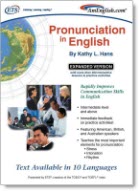 December 17, 2008
Pleasanton, Ca. - AmEnglish.com® is pleased to announce the release of a new, expanded version of Pronunciation in English. This interactive, multimedia program is designed for English language learners at the intermediate to advanced level. It is co-branded by ETS®, maker of the TOEFL® and TOEIC® tests. The new expanded version of Pronunciation in English provides a unique focus on the most important elements of pronunciation: stress, intonation, and rhythm. It also provides an enhanced user interface.

The new, expanded version has more than 300 lessons with:
American, British, and Australian speakers
scored chapter reviews and a final exam
video presentations to introduce the concepts
immediate feedback on practice activities
record and playback to encourage practice/self correction
audio lessons to model the pronunciation
text translated into 10 languages
This program, which is for self-study or classroom use, improves listening comprehension and spoken English. You can view a three minute flash slide show about the program, click on:
Pronunciation in English
Educational Testing Service® (ETS®)
is the world's largest private educational testing and measurement organization and a leader in education research. ETS® is dedicated to serving the needs of individuals, educational institutions, and government bodies in nearly 200 countries. The organization develops and administers more than 12 million tests worldwide. For more information about ETS®, visit its Web site at
ETS®
.
AmEnglish.com®
provides products and services to improve communication skills for nonnative speakers of English at the intermediate and advanced levels. Their pronunciation, idioms, and writing programs are currently being used in language labs at schools and universities like Reedley College in California, Laramie County Community College District in Wyoming, and the University of South Carolina. Companies like Microsoft and IBM use these programs to improve productivity in the workplace.