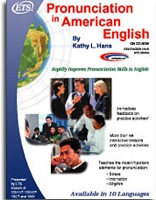 July 17, 2006
Pleasanton, Ca. - AmEnglish.com® announced today that it has released the latest version of its training program, Pronunciation in English.

This new version features American, British, and Australian speakers and will support increased use internationally. Pronunciation in English is co-branded by ETS® (Educational Testing Service®) makers of TOEIC®, TOEFL® and TAST and is recommended as a practice tool for pronunciation for the new TOEFL® test.

This interactive multi-media program improves pronunciation skills for non-native speakers of English at the intermediate level and above. It has over 138 interactive lessons and practices with:
text translated into ten languages
video presentations to introduce the concepts
audio lessons to model the pronunciation
immediate feedback on practice activities
written activities to reinforce the learning
record and playback to encourage practice/self correction
printable workbook to reinforce the concepts
Pronunciation in English
(formerly Pronunciation in American English) can be used by individuals, universities, and corporations. This product has been well received in the education market in the United States and is currently being used in the language labs of universities and schools like the University of South Carolina and Study Group International. corporate clients include companies like Microsoft and IBM.
"We've achieved great outcomes with people from a number of different language backgrounds with this pronunciation program. Many languages do not place the same importance on stress, intonation, and rhythm that English does. Emphasis on these key elements rapidly improves pronunciation skills in English," said author Kathy Hans.
Pronunciation in English
is available online, as a CD-ROM, and as a download. An informational flash slide show about the program is available at:
Pronunciation in English
AmEnglish.com®
provides products and services to improve communication skills for non-native speakers of English at the intermediate and advanced levels. These products and services are designed for both students and working professionals.