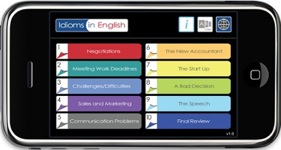 February 17, 2012
Free version of Idioms in English on iTunes
Pleasanton, Ca. - AmEnglish.com® releases a new version of Idioms in English on the iTunes store.

It works on the iPhone®, iPod Touch®, and the iPad®. This application is designed for nonnative English speakers at the intermediate level and above to improve listening comprehension, vocabulary and speech.

Idioms like "think out of the box" and "make waves" are used frequently in conversations, email, and media in English. When you don't understand the idioms, you can miss the point of a sentence or story.

The free version of Idioms in English includes one complete chapter. You can purchase the other eight chapters and the final review (game) with an "in app" purchase for $4.99.

The free chapter from Idioms in English features:

A story using the idioms in context
Audio featuring four different native speakers
A multiple choice quiz for idiom definitions
A chapter review game with instant scoring
Definitions, examples, and pronunciation practices for each idiom
Text translations for Korean, Japanese, Chinese simplified, Chinese traditional, Spanish & Brazilian Portuguese
You can get more information about
Idioms in English
on the iTunes App Store at:
AmEnglish.com®
provides products and services to improve communication skills for nonnative speakers of English at the high beginning through advanced levels. Hundreds of universities and colleges, many multinational corporations and thousands of individuals worldwide have successfully used the AmEnglish.com suite of English-language products.