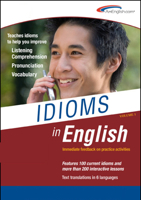 August 2, 2010
AmEnglish.com® has released Volume Two of Idioms in English
Pleasanton, Ca.AmEnglish.com® has released Volume Two of Idioms in English. This online, interactive program is part of the English Skills Series from ETS®, maker of the TOEFL® and TOEIC® tests.

Idioms in English -Volume Two helps improve listening comprehension, vocabulary, and speech for English-language learners at the intermediate through advanced levels. It covers 100 idioms in 220 interactive lessons with:
Stories/dialogues using the idioms in context
Audio featuring four different native speakers
Definitions, examples, and pronunciation notes for each idiom
Interactive dictation practices
(New) A final interactive exam with four different question types
(New) Flash 'roll over' menus - a program level and a chapter level index
(New) Listening comprehension section with pictures
Text translations in Korean, Japanese, Chinese simplified, Chinese traditional, Spanish, and Br. Portuguese
"Idioms like 'out of this world' and 'on the fly' are used frequently in conversations, email, and media in English. When you don't understand the idioms, you can miss the point of a sentence or story," said the author, Kathy L. Hans. "We are very pleased to release Volume Two of
Idioms in English
. Customers have asked for this, and we think it is a great addition to our suite of English-language products."
This program is available online:
Click on:
Idioms in English
AmEnglish.com®
provides products and services to improve communication skills for nonnative speakers of English at the intermediate and advanced levels. Their pronunciation, idioms, and writing programs are currently being used in language labs at schools and universities like Reedley College in California, Laramie County Community College District in Wyoming, and the University of South Carolina. Companies like Microsoft and IBM use these programs to improve productivity in the workplace.