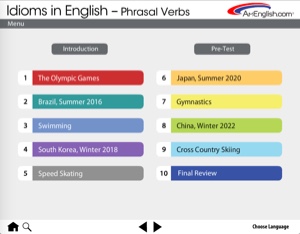 January 4, 2016
Pleasanton, Ca.
AmEnglish.com® has just released Idioms in English - Phrasal Verbs. This brings the total number of online, interactive English training programs to 17, all of which are available to subscribers as part of the AmEnglish - Accelerate Program.

It will improve listening comprehension, pronunciation, and vocabulary in English for:
Lectures, emails, and discussions at school or work
Tests like the TOEFL®, TOEIC®, & IELTS®
"Phrasal verbs like
slip up
and
map something out
are tricky because usually the meaning cannot be understood by looking up the individual words," said the author, Kathy L. Hans. "We've focused on phrasal verbs in this program because they are so common in English that they appear on tests like the TOEFL®, TOEIC®, and IELTS®."
Idioms in English - Phrasal Verbs
is unique because the stories using the idioms in context focus on upcoming Olympic Games. So you can improve your idiomatic vocabulary while learning a little about the history of the sports and the host cities.
Idioms in English- Phrasal Verbs
covers 100 phrasal verbs in 220 interactive lessons with:
Stories using the phrasal verbs in context
Audio featuring four different native speakers
Definitions, examples, and pronunciation notes for each phrasal verb
Scored quizzes and pictures for listening comprehension
Scored quizzes for phrasal verb definitions
Scored dictation practices
Scored, rotating final for all 100 idioms with 4 different question types
Idioms in English- Phrasal Verbs
is available for schools as an/a:
It is available for individuals online at:
Idioms in English - Phrasal Verbs
AmEnglish.com®
provides products and services to improve communication skills for nonnative speakers of English at the high beginning through advanced levels. Hundreds of universities and colleges, many multinational corporations and thousands of individuals worldwide have successfully used the AmEnglish.com suite of English-language products.