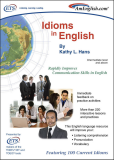 May 1, 2007
Co-branding of Idioms in English by Educational Testing Service®
Pleasanton, Ca. - AmEnglish.com® announces the co-branding of Idioms in English by Educational Testing Service® (ETS®). The co-branding coincides with changes in the TOEFL® Test, which now includes a speaking component.

Designed for nonnative English speakers, Idioms in English is an interactive program featuring one hundred idioms in English with native speaker audio files to model pronunciation and usage. Idioms like think out of the box and make waves are used extensively in conversation, email, newspapers, and magazines in English. When you don't understand the idiom, you can miss the point of a story.

This program, which is for self-study or classroom use, improves listening comprehension, vocabulary, and speech. You can view a three minute flash slide show about the program at: Idioms in English

It features over 220 interactive lessons and practices with:

Stories/Dialogues using the idioms in context featuring four different native speakers of English
Multiple choice exercises to clarify the meaning with immediate feedback
Definitions, examples, and pronunciation notes for each idiom
Interactive dictation exercises with immediate feedback on answers
Focus word practices for each idiom
Dictation reviews for each chapter
A final interactive quiz with all 100 idioms with instant scoring
Text translated into 3 languages: Japanese, Chinese simplified, and Chinese traditional
Idioms in English
is available as a CD-ROM, download or online for $39.50 (U.S.)
Educational Testing Service® (ETS®)
is the world's largest private educational testing and measurement organization and a leader in education research. ETS® is dedicated to serving the needs of individuals, educational institutions, and government bodies in nearly 200 countries. The organization develops and administers more than 12 million tests worldwide. For more information about ETS®, visit its Web site at
ETS®
.
AmEnglish.com®
provides products and services to improve communication skills for nonnative speakers of English at the intermediate and advanced levels. Their pronunciation, idioms, and writing programs are currently being used in language labs at schools and universities like Reedley College in California, Laramie County Community College District in Wyoming, and the University of South Carolina. Companies like Microsoft and IBM use these programs to improve productivity in the workplace.