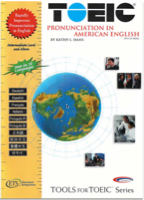 June 28, 2002
Pleasanton, Ca. - AmEnglish.com® announced today that it has released the latest version of its pronunciation training program on CD-ROM, TOEIC® Pronunciation in American English. The new version has been localized in ten languages (Chinese-Simplified, Chinese-Traditional, French, German, Italian, Japanese, Korean, Portuguese, Portuguese-Brazilian, and Spanish) and will support increased use internationally. The current market focus for this latest version is in Brazil, China and Japan.
This interactive multi-media program improves pronunciation skills for non-native speakers of English at the intermediate level and above. It can be used by individual customers, in classroom training environments, and can be adapted for distance learning courses. Since it is interactive, the program provides learners with both visual and aural simulations. In addition, the pronunciation and other language exercises portrayed in the program are set in a meaningful workplace context, allowing learners to practice and improve their communication skills in a realistic way. Earlier versions of this product have been very well received in the educational market in the United States, and are currently being used in the language labs of universities like MIT (Massachusetts Institute of Technology), the Naval Postgraduate School in Monterey, Ca., and Texas A&M University, among others. UCSC (University of California, Santa Cruz) Extension uses the program as an electronic textbook for its distance learning English program. Corporate clients include IBM, Abbott Laboratories, and PeopleSoft.


TOEIC® Pronunciation in American English is co-branded by the Chauncey Group International®, a subsidiary of Educational Testing Service© (ETS®). It was selected as an official tool for TOEIC® (Test of English for International Communication®). TOEIC® is an English language proficiency test marketed worldwide by the Chauncey Group International®. The TOEIC® test focuses on English for business, and AmEnglish.com designs language training products with the same focus.

AmEnglish.com®; provides products and services to improve communication skills for nonnative speakers of English at the high beginning through advanced levels. Hundreds of universities and colleges, many multinational corporations and thousands of individuals worldwide have successfully used the AmEnglish.com suite of English-language products.