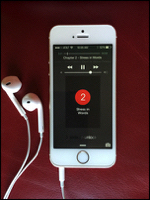 January 13, 2015
AmEnglish.com® announces a new AudioBook Series
Pleasanton, Ca.
The new AudioBook Series:


Runs on iPhones, smartphones, iPads, Android tablets, or PC's
Available in English or Spanish (more languages soon)
Stream from our web site or download to your device
Available in "Classroom Packs" for schools
Titles include:
Pronunciation in English (both levels - with lectures)
Idioms in English (3 volumes)
Animal Tales (4 volumes)
Please contact us by
Email
to request a Free Tour or to get more information.
AmEnglish.com®
provides products and services to improve communication skills for nonnative speakers of English at the high beginning through advanced levels. Hundreds of universities and colleges, many multinational corporations and thousands of individuals worldwide have successfully used the AmEnglish.com suite of English-language products.