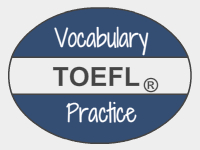 September 9, 2013
AmEnglish.com® announces the addition of TOEFL® Vocabulary Practice to Animal Tales - Volume 3 by LittleELL.com
Pleasanton, Ca. - AmEnglish.com® in collaboration with LittleELL.com has just released an update to Volume 3 of Animal Tales* with a new TOEFL® Vocabulary Practice.

This online, interactive program is appropriate for English language learners at the intermediate level and above. Schools can use the UMS (User Management System) to track usage and scores.

The new TOEFL® Vocabulary Practice featuring over 250 words:
Highlights the targeted vocabulary in context
Provides a scored vocabulary practice section
Allows users to navigate back and forth with links from the poem lines & matching facts to the scored vocabulary practice
The new TOEFL® Vocabulary Practice section is included in the scored Final Review which features five different question types:
Word scrambles to improve grammar/syntax
Fill-in-the-blanks to build correct article usage
Dictation to improve listening comprehension
Multiple Choice to improve reading comprehension
TOEFL® Vocabulary Practice (new)
You can watch a short slide show at:
Animal Tales
* Volumes One and Two will also include the new
TOEFL® Vocabulary Practice
in the fall.
LittleELL.com
creates audio books, read and listen books, online programs, and apps for young English language learners. Their mission is to inspire a lifelong love of language and learning.
AmEnglish.com®
provides products and services to improve communication skills for nonnative speakers of English at the high beginning through advanced levels. Hundreds of universities and colleges and thousands of individuals worldwide have successfully used the AmEnglish.com suite of English-language products. Their pronunciation,idioms,and writing programs have been reviewed and approved by ETS®, maker of the TOEFL® and TOEIC® tests.
TOEFL® is a registered trademark of ETS®